Window Blind installation in Leven, Fife
We supply and fit a range of window blinds in Leven, Fife.  We supply and install roller blinds, vertical blinds, venetian blinds, roman blinds, duette blinds, solar blinds and wood blinds. We are very selective when making any additions to our range ensuring the highest quality of materials and installation. Some of our products are displayed below, along with tips from Douglas.
Roman Blind Installation
Roman blinds are made with a no-sewing process. Lining is laminated onto the material giving it more body. This process produces exact crisp folds. Most of the Roller Blind fabrics can be made as Romans, as can your own material.
Duette Blind fitting in Fife
We're based in Fife, and can install and fit window blinds in Leven.  These shades are a honeycombe construction which softly filter light and insulate your home. Model options include a version which draws from the bottom up to the top allowing you to screen off the street, but leaving open the sky view.
Visage Blinds
Visage is a fabric blind made with soft slats that appear to "float" between two layers of voile like material. The slats can be angled to control light, and the blind raises and lowers as a roller blind.  We offer free window blind consultations in Leven, Fife – contact us to book a time.
Vision Blinds
An innovative new style that features two layers of translucent and opaque horizontal striped fabrics. The front layer moves over the back layer allowing the stripes to glide between each other creating an open an closed effect. A single control is used to slide the woven stripes past each other, and to fully raise and lower the blind.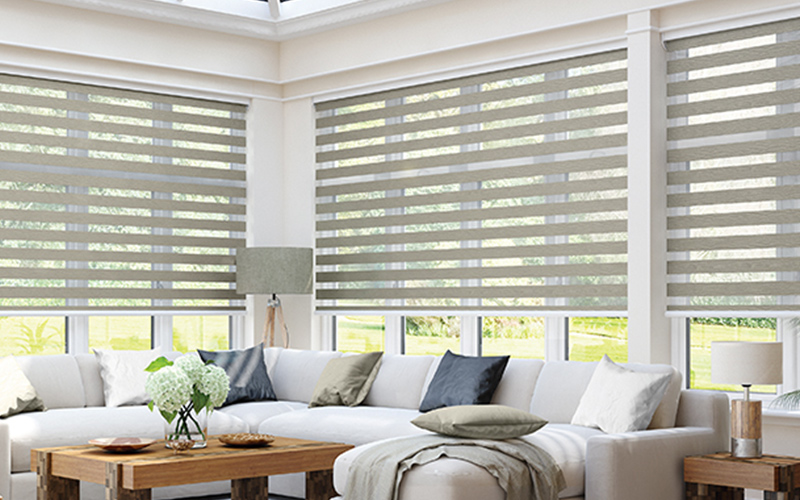 Electric Blind fitting, Leven
We can supply and fit electric blinds in Leven, Fife – we're based just down the road in Aberdour.  Most blinds can now be motorised using lithium batteries with remote control. Blinds can be operated individually or in a group. No wiring required. Battery charger plugs into blind. Child safe.